Name:

Automatic Drop Tester
Name: Automatic Drop Tester
Model: IN-DT2000
Application:
High precision auto drop test machine is aimed at assessing the effect of unintentional drop of the product by user in actual use on the product
performance, which is applicable to the original-gesture drop test of mobile phone, tablet, e-reader, telephone, e-dictionary,
and other consuming electronic products.
Specification:
| | |
| --- | --- |
| Model | IN-DT2000 |
| Max drop height | 300~2000mm |
| Max sample weight | 2kg |
| Drop height setting | Touch panel setting and display |
| Min release height | 300mm |
| Counter | 0~999999 (settable) |
| Air source | ≥0.5MPa |
| Tester size | W1000xD1180xH2415mm |
| Weight | About 420kg |
| Power supply | AC220V 50Hz 3A or 110V 60Hz 6A |
Structures and Functions:
1. High precision automatic drop tester machine adopts AC variable-frequency and variable-speed motor plus synchronous pulley for adjusting drop height
range, which is durable;
2. Auto drop tester adopts a color LCD touch panel plus PLC for motion control and set, by which drop cycles can be preset
and power-off memory function is provided; all control parameters will be set via the touch panel: drop, reset, height
setting, number of drops and count, etc.;
3. Operator just needs to input the size of the product to be subject to drop test via the screen only: length L, width W,
thickness T, diagonal interval DI; so that the tester can auto raise up to the set drop height for testing.
4. After the drop finishes, the fixture block will automatically return to the set sucking height (generally, at a height of 600
~800mm)
5. 4 corners, 8edges, 2 faces, 4 sides can be set to drop and impact on base, if the product is not regular shape, we can
make the clamping fixture for the test.
6. The product will be released at the height around 300mm, that can make sure the impact gesture of the product on the
base.
7. The drop bases: steel plate, marble board, wood board.
The fixture for fixing tested sample:
The Testing Interface: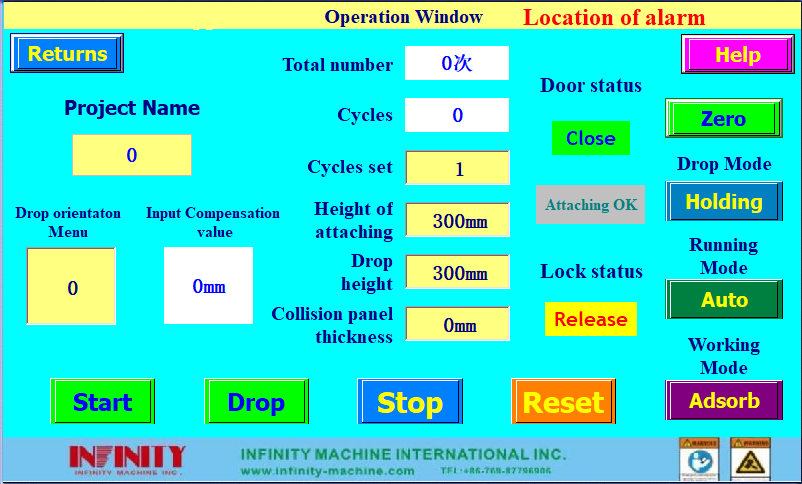 The speed and stability calibration:
The drop speed and the stability of this tester have been verified by the high speed camera.
The High speed verification picture and the graph.
Video:
For more details about control drop tester, please contact us.
NO.103 Building 4,No.27,Beihuan Road,Wangniudun Town,Dongguan City,Guangdong Province,China